Standard Fire Pan by Tye Works (No Longer Available)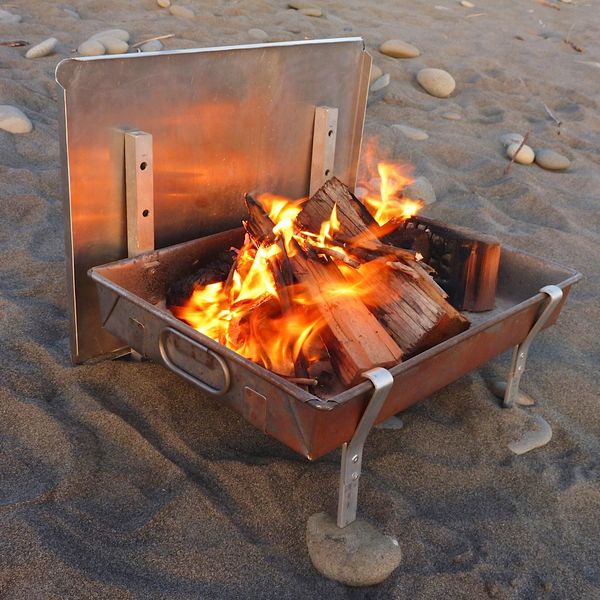 Standard Fire Pan by Tye Works (No Longer Available)
Standard Fire Pan by Tye Works
11/8/2019 - SOLD OUT
The Base Pan we use is no longer available.  We are looking at options.  Contact us if you have questions.
•  Assembles in seconds with no tools or fasteners
•  Meets wilderness camping regulations for the NPS and USFS
•  Includes an adjustable height cooking grill and a nylon storage bag
•  Grill and legs store inside the pan for easy transport
•  The assembled pan will support over 225 pounds of weight (me) standing on it
•  Now includes an a heavy gauge aluminum cover that serves as a draft stop
•  Flat Rate Domestic Shipping $15.00
At only about 15 pounds, the Tye Works Fire Pan is somewhere between 1/2 to an amazing 1/3 of the weight of traditional "outfitter" fire pans, without sacrificing features or performance. You can't drive a truck over it, or use it as an anchor, but it will light up your nights for many years.
Fire Pans are required on many wilderness rivers.  They protect soil and contain the ashes following the "leave no trace" ideal of wilderness camping. The Tye Works Fire Pan has been tested (in various configurations) for years on river and camping trips.  It is now ready for the rest of the world to enjoy.

The Standard Fire Pan by Tye Works measures 22"x 16" and stands 5 1/2" off the ground.  Its lip is 3" high meeting Forest Service (USFS) and National Park Service (NPS) regulations.  The pan itself is light gauge steel reinforced on the bottom.  The legs are heavy gauge, square aluminum tubing and bar stock.   The adjustable grill is perforated steel sheet, with a 3/8" rim around it to keep your hot dogs from rolling off into the sand.  Legs and the grill easily disassemble to fit inside the pan.  A heavy gauge aluminum cover keeps everything neatly stored in a heavy weight nylon stuff sack.  Tye Works Fire Blankets (not included) also fit inside the disassembled pan.
Reviews